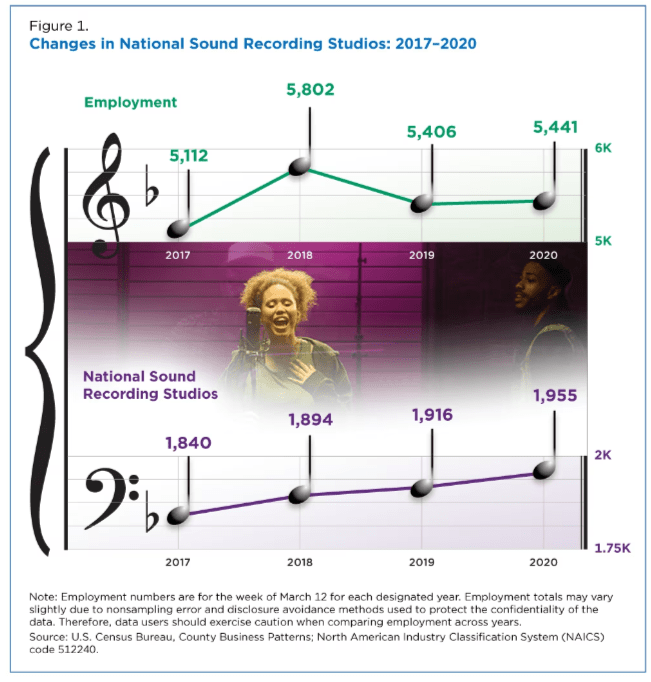 Grammy Awards: U.S. Census Bureau publishes industry data
The number of Sound Recording Studios establishments also grew every year in the last four years (2017-2020), according to the Census Bureau's County Business Patterns (CBP): 1,840 in 2017; 1,894 in 2018; 1,916 in 2019; 1,955 in 2020.
Employment in this industry during the week of March 12, however, fluctuated year-to-year: 5,112 in 2017; 5,802 in 2018; 5,406 in 2019; 5,441 in 2020.
According to the CBP, there were 3,351 Musical Instrument and Supplies Stores with 27,688 paid employees in 2020, a dip from previous years: 3,557 stores with 28,182 employees in 2017; 3,529 with 28,405 employees in 2018; and 3,455 stores with 27,786 employees in 2019.
But there were more nonemployer businesses in musical instrument and supplies stores than businesses with paid employees — a number that rose to 7,093 in 2019, from 7,016 in 2018, and 6,688 in 2017, according to our Nonemployer Statistics (NES).
NES data for 2020 will be available later this year.
Grammy Award Winners Help Promote Census Statistics in Schools
Past Grammy Award winners have lent their voice to support the Census Bureau by promoting the importance of statistics in the classroom through our Statistics in Schools (SIS) program. SIS provides lesson plans and fun games like Kahoot! to boost students' statistical literacy.
In 2019, two-time Grammy Award winner Peabo Bryson recorded a short video touting the program.